January 2020
Members
Newsletter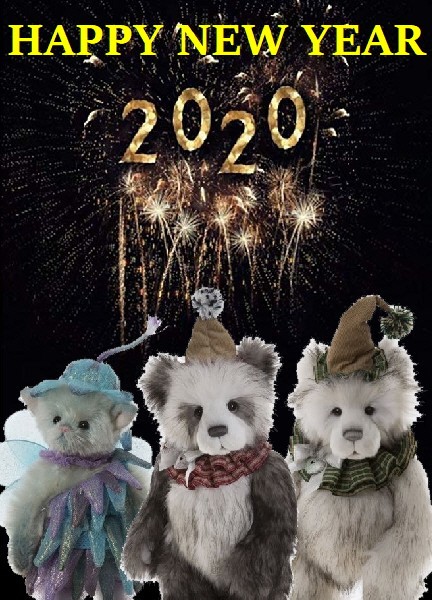 Some of our exclusive limited edition Artist Teddy Bear designs
Nana Bear
asks you to
"Hug your Teddies daily"
Hi Bear Club Members,
I really hope you all had a safe and relaxing Christmas break in spite of all the terrible fires that are devastating much of our country at the moment
I know that in spite of all the hopes and best wishes we are sending that sadly some of our "Teddy Bear Family" will have been impacted to some degree by the fires, our hearts go out to you if you have been caught up in this disaster and if our family can help yours in any way remember we are only a phone call away.
Although there is much to be sad about we are going to kick the New Year off with a really positive start and hope we can in some small way help to make 2020 a better year for all our members.
To this end this news letter is dedicated to helping raise some much needed funds to help our Fire Fighting Heroes, the families who have suffered any loss and even the animals big and small that are suffering from the devastation and are desperately in need of the wonderful services provided by wildlife champions WIRES.
I am aware of the huge requests from all types of charities seeking donations that you are all inundated with at the moment, I am also very much aware that we can all do only so much to help.
I believe I have a way that with a little help from you in passing on your normal members discount WE can together make a big difference
Read on to see how you can help
LOCAL & GLOBAL TEDDY NEWS
The good, the bad and the cuddly!
CHARLIE BEAR SIGNING EVENT
As promised here is a start on the good news that we hope will help make 2020 a better year for teddy collectors
Will and Charlie have announced their 15th Birthday Signing Event Schedule for their 2020 World Tour and Australia is fortunate to have 4 dates set aside for them to appear and meet with you.
Nana's Teddies are pleased to advise that we will be hosting one of the four signing events for Australia.
In fact as one of Charlies largest retailers in Australia we will be hosting the only event in NSW
Our Event will be on Sunday the 26th April, that's the day after Anzac Day which will be a long weekend allowing time for members who live further afield to travel to the event.
If you need overnight accommodation in the mountains here is a link to Blue Mountains Tourism who will be able to assist you with a list of local venues
https://www.bmcc.nsw.gov.au/visitor-information
The Event will be held between 2pm and 6pm, due to time constraints and our capacity to comfortably and safely fit people in we will sadly have to limit attendance to 100 members so it is essential that you RSVP with the number in your party to bears@teddys.com.au
Due to limited space and for the "quieter" comfort of all members we request that you leave the children at home, also please note we will not have room for any prams or strollers
RSVP NOW to ensure your place at this historic signing event
Further details will be announced as they are released but be
assured that there will be some surprises including a very
Exclusive Event Bear only available through our store.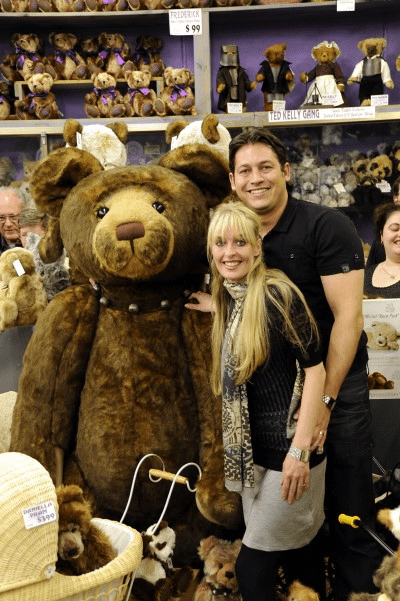 HELP US HELP THEM
Nana's Teddies has a long history and commitment to helping out when disasters strike not only here at home but also internationally like when the huge Tsunami wiped out most of Banda Aceh and surrounding Indonesia.
With the help of our members and our suppliers we collected and donated 7305 bears and animals that were distributed directly to the arms of kids who had lost everything by the team from the Exodus Foundation, led by the Reverend Bill Crews.
At the same time disaster struck again here at home with the devastating bushfires that raged through the Ayre Peninsular in SA where over 100 homes were lost and hundreds of kids left with only the clothes they were wearing.
We sent 1155 bears and toys to Adelaide where we enlisted the help of The Salvation Army who handled the distribution in South Australia on our behalf with the assurance from Captain Mark Kop that all bears and toys would be given directly to the children and that none would go to the op shops.
It is very important to me and also to many who donated teddies that all of them go to providing comfort to the kids and not get lost in the charities fundraising efforts.
So again with the current disaster unfolding we at Nana's are trying to help in the best way we can, I have been in touch with the major relief programs and all advise that money is the most needed thing for the affected regions, they are overwhelmed by physical goods donations.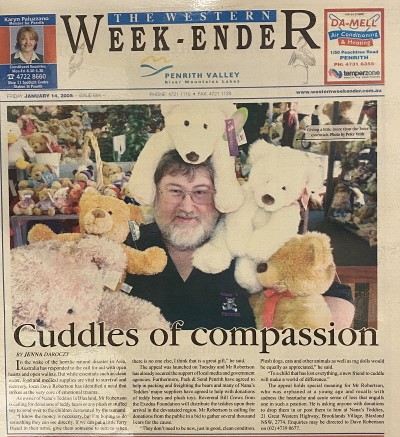 HOW YOU CAN HELP
Until the end of January we wish to invite you to be a part of our fundraising effort to assist the Brave Fire Fighters, the Families who have suffered losses and also the poor defenseless Animals compacted by the fires
All we ask of you is that for this month you opt to pass on taking your normal 5% Members Discount which we will pass on to the RFS or Wires with an additional 15% added by us making a huge 20% of the value of your purchase going to help fund these very worthy causes, you will only pay the original retail price for your purchase
All you need to do is order your bears as normal through our enquiry cart and add either of the following codes to the promo code box
If you wish to have your donation go to the RFS who have done so much to protect and assist families in their areas the use the code GIVE RFS
If you wish to have your donation go to WIRES who have assisted and helped relocate or get thousands of poor little creatures to veterinary help the use the code GIVE WIRES
Please Note: If you feel you have already given all you can or do not wish to participate in this fundraiser just enter your enquiry normally without any promo code and we will deduct your members discounts from your total as per normal
If you wish to have your donation go to the RFS who have done so much to protect and assist families in their areas we will be donating our proceeds directly to RFS Headquarters where they will distribute funds to the many brigades involved so that they can repair or replace vital equipment damaged or lost in the fires, sadly some brigades have had some vehicles completely destroyed.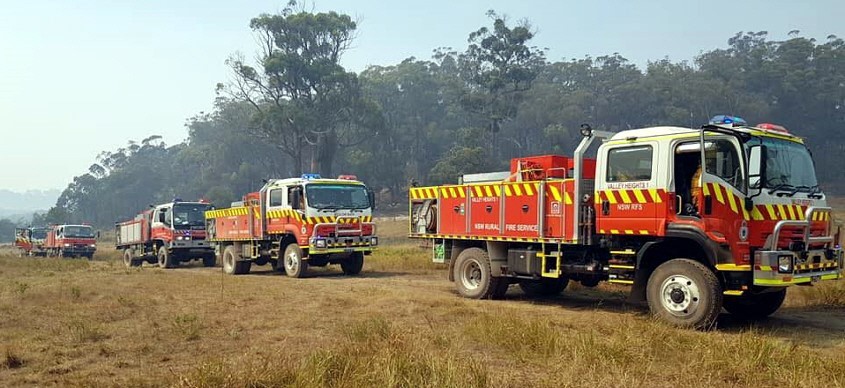 If you wish to have your donation go to WIRES who have assisted and helped relocate or get thousands of poor little creatures to veterinary help we will be donating these proceeds directly to WIRES HQ who will get the funds to where they will be best used for the ongoing care of these poor animals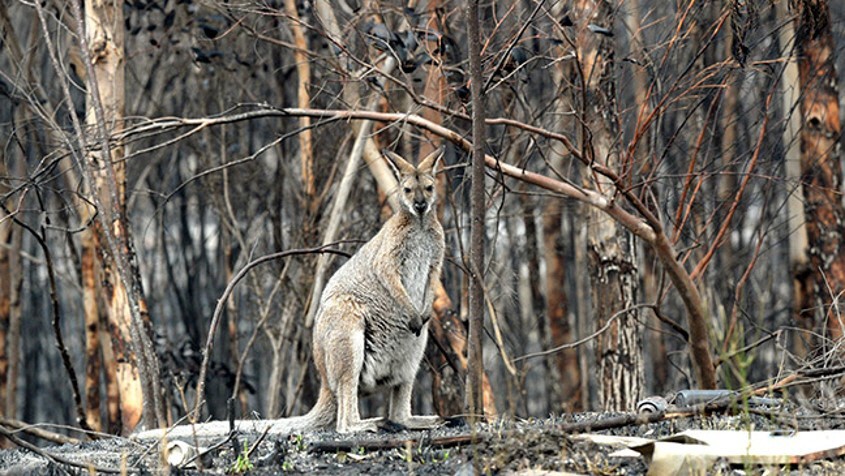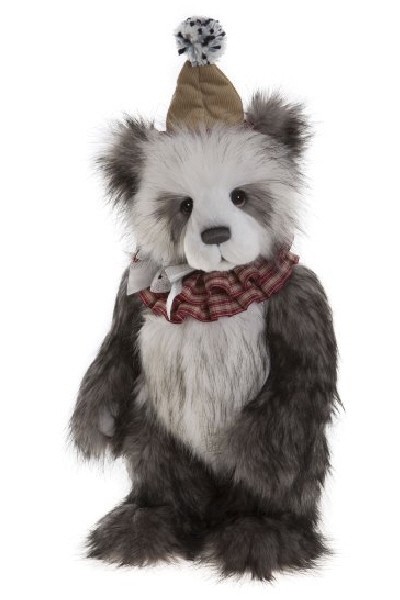 CHARLIE BEARS UPDATE
WOW – WHERE TO START
With the introduction of the new 2020 Charlie Bears ranges imminent and the announcement of the 2020 World Signing Tour there is a lot to be excited about this year.
As in previous years we as stockists are sworn to secrecy on the designs that are to come and any other details in the release until the official launch later this month.
Please be assured that we will have all the new bears on our website ready for you to pre-order as soon as Charlie presses to official GO Button for the release.
Will send out a special news blast when we are allowed to put this information live
GOODBYE 2019
As 2019 drew to a close we have less to report on bear arrivals as over 90% of designs have been produced in the quarter that they were planned for however like the best laid plans of Mice & Men some times things do not go exactly as planned.
Sometimes due to raw material delays or other factors outside Charlie Bears control some designs are held up and arrived a bit later than expected, but overall the new production and distribution system has resulted in more bears coming in on time.
Some plush designs we only receive an initial burst of a small number of our orders with the balance to follow.
The new system of only sending some of our back order to allow a much wider range each delivery is working out well however after filling members pre-orders some designs don't make it to the shelves in the first delivery
The plush bears that have arrived recently are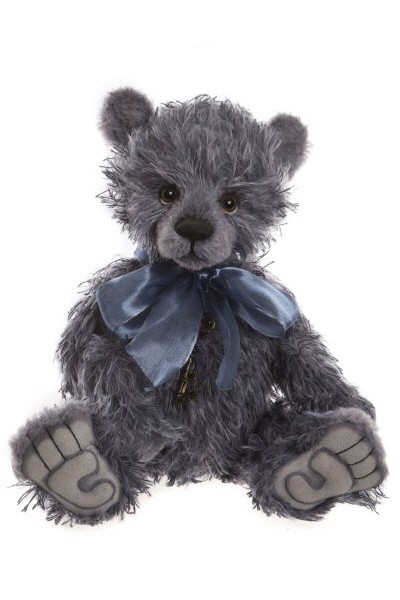 The plush bears that have arrived recently are
Fraser – Alyssa – Billie
Bryce – Dan – Jill – Kelly
Levi – Wren – Dunk
Giggleswick – Snuggleability
ISABELLE MOHAIR DESIGNS
Most of the designs in the 2019 range have have now arrived and made many members very happy, quite a number of the new 2019 mohair designs did not make it onto the shelves as due to the reduced allocations this year most of our mohair designs sell out on pre-order well before they arrive and need to go straight out to their new homes.
2020 will be even more in demand as collectors are now aware that the mohair allocations to all stockists are reduced and it is imperitive to pre-order as soon as you get the release information or risk missing out altogether
Designs that have arrived since last newsletter are listed here and we still have stocks available of some of these designs, look in the catalogue to see what is available to adopt now
Lace Mouse – Blue Fairy
Opera – Timmy – Dapper
Garter Mouse
If you have pre-orders not appearing on this list please do not harass us about when they are coming as we do not know, we will advise you as soon as we get any information.
If you wish to look at any of the now hundreds of amazing designs currently available you can see them all in the following Charlie Bear categories…
IMPORTANT ANNOUNCEMENT – PRODUCT RECALL
Please note that all our members pre-orders for Sugar Plum Fairy were just about to leave the factory when this issue was discovered so sadly their arrival has been delayed as they needed to be remade
Please be patient, she is worth waiting for and we will get them to you as soon as we possibly can.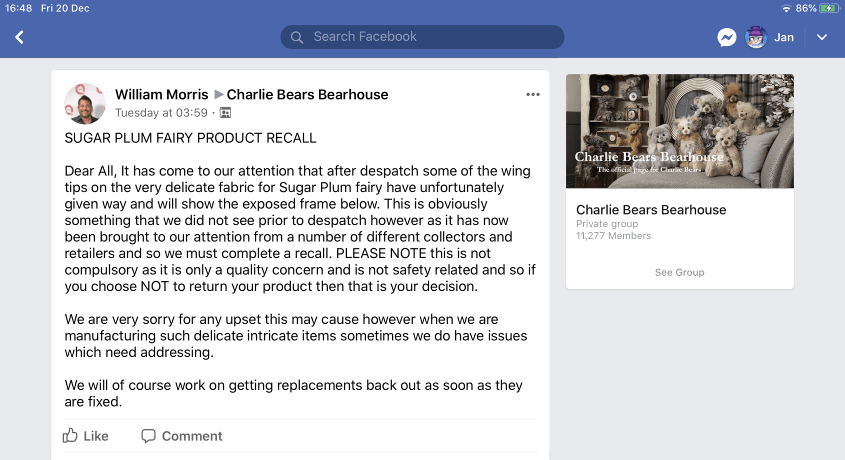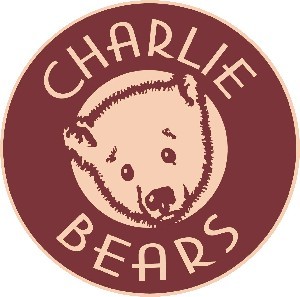 IMPORTANT REMINDER
Members 2019 Christmas Vouchers expire on the 31st January so if you have not already redeemed your voucher don't miss out on your massive savings, browse through our huge catalogue now to see what hidden treasures are waiting to tempt you there


Will you be a winner in this month's
$100 members draw?
We have another 4 x $25 Gift Certificates to win
You have to be in it to win it!!!!
Enter this months draw for your chance to win a $25 gift voucher by answering this simple question,
What are the two organisations we are supporting with this month's fundraising?
You can find the answer in this newsletter.
E-mail your answer now and don't forget your membership number.
Congratulations to last months winners
Members Super Draw $25 Gift Certificates winners are
Lorraine Baldwin – Prospect NSW
Debbie Hoberg – Sarina QLD
Janette Gentz – Flinders NSW
Erin King – Cowell SA
Regards and beary best wishes
Dave.


FOR THE BENEFIT OF OUR NEWER MEMBERS THAT HAVE JOINED
US RECENTLY I WILL CONTINUE TO REPEAT EACH MONTH THE
FOLLOWING INFORMATION ON MEMBERS DISCOUNTS AND BENEFITS
TEDDIES ON PARADE EVENTS
Events are held through out the year as special promotions or important happenings occur, we will always give you advance notice of these special events.
Teddies on Parade night events start at 7pm sharp and generally run till around 9pm but this depends on how much fun our members are having.
It is essential to RSVP so that we can organise catering and gifts.
Our TEDDIES on PARADE nights are young children free events so that you and other members can relax and enjoy the bears and the company.
Well behaved teenagers are most welcome to attend.
So when we advertise an event why not mark your diary, RSVP and come along and have a relaxing fun night out with a great bunch of people that share your passion for collecting Teddies.
MEMBERS DISCOUNTS.
For the benefit of members old and new I would like to clarify the importance of making it known to us when you are ordering that you are in fact a member, if you cant find your number we can look it up on our computer system for you.
As we have now over 32000 customers on our lists it is hard for us to keep track of every ones status so we ask your help in providing your membership number with all inquires and orders, this way we can ensure you get the discounts or specials you are entitled to as a member of our club.
YOUR MEMBERSHIP NUMBER IS DISPLAYED AT THE TOP OF EVERY NEWSLETTER
just above your name.
Your membership entitles you to a minimum of 5% off all regularly priced products that are not already reduced.

All prices in our on-line catalogue are our normal retail prices and members discounts will be deducted from these retail prices.

Discounts are not available for lay-bys as we incur additional costs in providing lay-by services.

Members discount also applies to Pre-orders placed with payment in full at the time of placing your orders.

Discounts do not apply to postage costs.

Special offers are made to members from time to time at up to 80% off retail, further discounts do not apply to these offers.

We always strive to offer our members the best possible value on all our teddy bears and other products, as such we are always happy to match or better any genuine advertised competitors prices. As it is impossible for us to monitor all available offers please bring it to our attention and we will see what we can do.
CHANGED E-MAIL ADDRESSES
Many members are changing their e-mail providers or going to broadband which changes their e-mail addresses.
It is imperative that you advise us of any change in your E-mail address if you wish to continue to receive your newsletters.
We would hate to lose contact with you.
I hope you enjoy this months news and all the additions to our on-line catalogue ranges, please check back frequently for new additions that will be uploaded as they arrive.
Regards and bear hugs from all of us,
Dave, Jan, Troy & the Bears.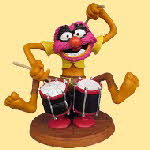 Copyright Nana's Teddies & Toys 2002-2020.