Australia's largest range of
CHERISHED TEDDIES
is available from
Nana's Teddies & Toys
We have one of the largest displays of Cherished Teddies in Australasia with many retired and hard to find pieces in stock
Some of our
exclusive limited edition
Artist Teddy
Bear designs
Nana Bear asks you to
"Hug your Teddies daily"
NEWS FLASH UPDATE
We are pleased to announce that since the decision of the Australian distributors to stop importing Cherished Teddies that we still able to assist collectors in finding some of the rare and hard to get designs.
Having purchased the entire warehouse stocks from the importer, over 9000 pieces in total we have had plenty of stock available for our huge clearance sale.
We knew doing it this way would not be a quick sellout but it has worked well and is now coming to the pointy end with only about 1000 pieces left spread across dozens of designs
Our huge Clearance Sale will continue until they are all gone
Every design now reduced to only $10 each regardless of original price
Just add all the designs you would like to the Enquiry Cart and use the Promotional Code CT SALE
Click here to see all remaining designs
HISTORICAL INFORMATION
about the end of Cherished Teddies in Australia
NEWS FLASH
The Bad News – No more Cherished Teddies for Australia
Whitehill & Co the Australian Distributors along with the UK distributors have announced that due to falling demand bought on by the Global Financial Crisis that it was no longer viable for them to continue importing the Cherished Teddies ranges from Enesco, this decision means the end of Cherished Teddies in Australia and will have major ramifications on the future production of these collectables.
The need to produce these figurines in high quantities to keep the prices reasonable, the high cost of shipping such heavy items, warehousing costs and the dedicated staff required to administer sales are all factors in the distributors decision to no longer support the range.
Many retailers in Australia stopped carrying them in the past few years which has also effected the sales potential and viability of these and many other product lines.
The Good News – We are having a Massive Clearance Sale
All Cherished Teddies Designs Now $10
We have done a deal with the distributors to clear the last of their stock holdings at heavily discounted prices.
That combined with our already huge range means that we have over 9000 Cherished Teddies being cleared at half their regular prices.
The choices are vast as we have hundreds of designs available, some are recent releases and some are hard to find retired designs but all are amazing value.
The clearance sale is being held both On-line and In-store, for our internet customers just add all the designs you would like to the Enquiry Cart and use the Promotional Code CT SALE we will then check stock availability and get back to you promptly with your discounted total.
In store we have set up a couple of huge trestle tables laden with bargains, as well as what is listed in our on-line catalogue we have a big selection of designs that are "last ones" that are not viable for us to spend the time putting them on line, the costs involved in photographing, processing and creating on line entries for these "last ones" is greater than what we sell them for.
So if you want a great bargain make a trip to the shop as soon as you can for the best selection, the Sale starts Saturday morning at 9am and will run until we clear all stocks.
The sale is open to the general public as well so if you know any Cherished Teddies collectors who are not members of our club do them and us a favor and let them know about this massive clearance.
If you are not a CT Collector you may still wish to take advantage of this sale as Cherished Teddies make fantastic Christmas Presents and stocking fillers and at these prices you can't go wrong.
SO WHAT DOES THE FUTURE HOLD FOR COLLECTORS
There will always be a strong after market for these cute little teddy bears and like most collectable things this market has it's ups and downs and goes through cyclic trends spanning several years at a time.
At present the trend is at the low point particularly as collectors are being a bit restrained in their buying at the moment.
This will bounce back and collectors will again enjoy the chase trying to track down particular designs and will as they have always done pay higher prices for hard to get desirable items.
There has been a lot of people selling their collections off due to economic hard times and many have sold entire collections quite cheaply, this has also driven prices down in the interim, Stores having clearance sales have also had an impact on the market so smart collectors are buying now and waiting for the market to cycle.
Not all collectors buy with a future investment in mind, many like Jan and I collect for the love of teddies and we buy because we like a design not what it could be worth in the future.
This is advice that I give all new collectors, buy it if you like it and if it does go up a lot in value then that is a bonus.
We personally have an enormous collection of Cherished Teddies, Jan just loves the little guys and would never part with any of her treasures no matter what the after sales markets are doing, she gets a lot of enjoyment from them and loves the thrill of coming across a hard to find design that she needs to finish a set, to me that is the essence of collecting, do it for the enjoyment and you will always be happy with your treasures.
So what ever your reason for buying Cherished Teddies NOW IS THE TIME TO BUY, prices have never been lower than we are offering in this clearance sale and the value can only increase as the years go by.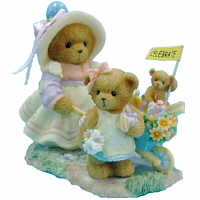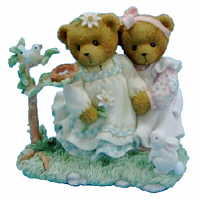 To view our full online
Cherished Teddies Catalogue
We have hundreds of current and retired Cherished Teddies designs now in stock for immediate delivery
CLICK HERE
Copyright Nana's Teddies & Toys 2002-2020.